Geschrieben am 24. Dezember 2020 | Abgelegt unter 4-Paws, In Memoriam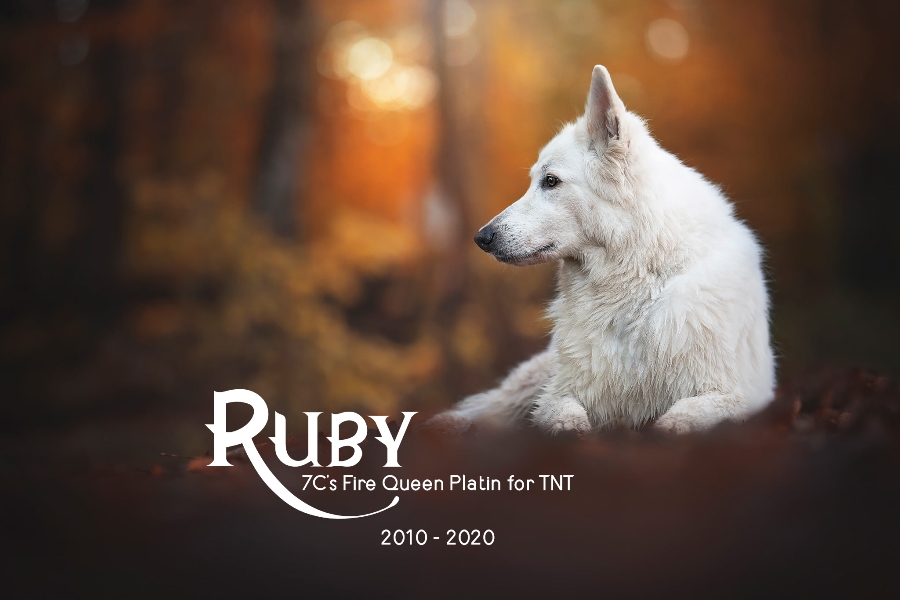 When someone you love becomes a memory,
the memory becomes a treasure
Ruby got her angel wings today to meet her son Phoenix and start a new adventure on the other side of the rainbow bridge. We mourn the loss of our founder female and at the same time the loss of her first (and Topaz' only) son, who passed away after an accident more than 7 years ago!
I feel very honored that Amy Collier & Dawn Malcolm entrusted me with our sweet, loving, affectionate "Fire Queen" that had this incredible, flying and breathtaking gait from the moment she started walking in 2010. As being 1 of just 2 descendants outside of the USA of the most titled and versatile White Shepherd of all times, Ruby enriched my life by 100 new experiences and more than 1000 beautiful memories during the past 10 years. She was not only mother to her altogether 9 puppies, but helped also raising several others.
While her full name was meant to be a game with words & letters (and a deep meaning), it turned out that TNT truly fit her nature. Explosive like dynamite, she had a temperament to die for, the most eager to please of all dogs I've ever owned and she would have protected her loved ones like no other one. While focusing she looked so deep in your eyes that she easily touched your soul.
No words were needed – in a blink of an eye I always knew when "her high craziness" got into trouble … oh, and she got into trouble so many times during her life. Maybe that's the reason why I felt closer to her than any other dog. I loved her to pieces with every single strength and fault.
Ruby just turned 10 in July and I neither expected that this was her last birthday nor did I expect that today was her last day. With eyes full of tears and a broken heart, I had to say goodbye. Ruby is gone now, the dog I had to wait 7 years for and she leaves an aching emptiness. I will never be accompanied by a dog like her again – I basically lost my shadow.
19/07/2010 – 24/12/2020
Thank you Ruby for everything!
You mean the world to me … forever!