Wurfplan
      Upcoming litters ...
˙·٠•●★   Wurfplan  ★●•٠·˙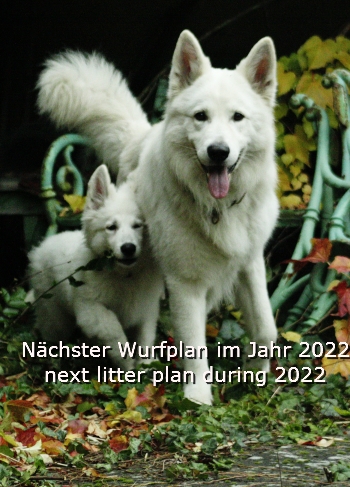 ˙·٠•●★ litter plans  ★●•٠·˙
Since 2012 we're involved in breeding White Shephers on a very limited base and only with the best combinations in mind. Therefore  usually we either add dogs to our pack or place our puppies very selectively to homes where they can flourish to their fullest potential.
Our next litter plan will be during 2022!
However we may have some puppies of our studs available unil then.
  Diese E-Mail-Adresse ist vor Spambots geschützt! Zur Anzeige muss JavaScript eingeschaltet sein!, if you would like to be kept informed.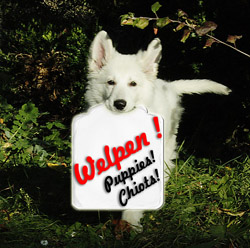 Wenn ernsthaftes Interesse an einem Welpen aus unserer Wurfplanung besteht, bitten wir Sie rechtzeitig mit uns Kontakt aufzunehmen, da wir die zukünftigen Welpenbesitzer gerne vorweg kennen lernen möchten. Gemeinsam können wir abklären, ob unsere Zucht die richtige Adresse für Ihr zukünftiges, vierbeiniges Familienmitglied ist. Aber selbt wenn Sie nicht an einem Welpen aus unserer Zucht interessiert sind, informieren wir Sie gerne über die Rasse und ihren Eigenschaften oder sind auch bei der Suche nach Ihrem idealen Züchter behilflich.